NEW!! Hibiscus Facial Now Available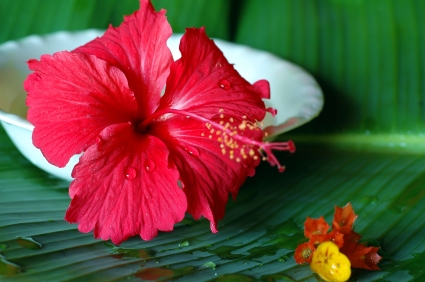 Fight the signs of aging and brighten skin tone with our new Rhonda Allison Signature Treatment – the Hibiscus Facial. While the hibiscus flower is beautiful, it is also potent. A second generation AHA, the flower acids obtained from hibiscus
chalices are even more moisturizing than lactic acid. A great rejuvenator for all skin types, this spa treatment will stimulate collagen activity, balance excess oil, and provide valuable antioxidant support for radiant skin and lasting results.  This luxurious treatment incorporates the potent hibiscus peel in an indulgent and relaxing spa facial.  Hibiscus peel is a phytobioactive peel that combines hibiscus, L-mandelic, and pyruvic and phytic acid. It works with all skin types, and provides skin lightening, healing and hydrating benefits. To boot, the phytic acid in the formula prevents damaging free radicals from forming during the cell disruption that occurs with most peel treatments.
Our Hibiscus Facial is 60 minutes and includes: deep tissue penetrating cleanse with pumpkin extracts, gentle exfoliation with enzymes from pineapple & papaya, non-irritating Hibiscus Peel, nourishment with anti aging peptides and hydrating omegas, eye & lip repair serum, soothing & hydrating milk mask, upper neck & shoulder massage, and finishing application of Growth Factor Serum, moisture & sun protection.
This is the perfect treatment for you if:
You've been considering a peel, but do not want to experience a lot of "down time" post treatment.
You love facials, but are looking for a treatment that goes a bit deeper.
Your skin is irritated and in need of calming, healing and anti-inflammatory support.
Your skin is dull, dry, and/or sluggish and needs a boost.
You suffer from hyper pigmentation and want a skin brightening treatment.
You're looking for an ultimate in anti aging treatment packed with cutting edge cosmeceutical ingredients.
This powerful treatment is available for $95!
Call today 469-500-9515 and book your session.  You may also book online or request an appointment  by email.