Summer Spa Series – $45 Express Facials in Plano, TX
Can you believe that summer is already upon us?? The weather has finally decided to turn warm, and we know it will only keep getting hotter.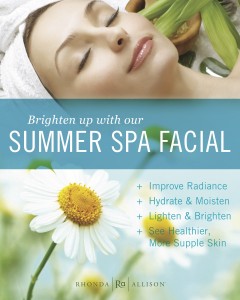 Some people tend to neglect their skin and/or skin care routine in the summer time. Facial treatments might be the last thing on your mind when trying to keep cool & beat the heat. However, summer is actually a great time to sneak in for a little quick fix skin care treatment. Maybe you got a little over exposed that day at the lake or on family day at the amusement park…or maybe you're just looking for a little indulgent indoor activity.
This summer, I've got just the treatment for you! I've developed a special series of summer treatments – the Summer Spa Series. These 45 minutes treatments are only available for a limited time – for just $45! Your Summer Spa Facial must booked between May 25, 2013 and July 27, 2013. There is no limit to the number of treatments you can receive, and feel free to refer your friends (they can get the same price during the same dates).
You may choose from the following options in the Summer Spa Series:
Summer Cherry Refresher – Features double exfoliation using enzymes from papaya, pineapple, and cherry as well as an infusion of supportive nutrients and anti-aging peptides. Great for all skin types – especially dull or tired skins with excess build up.

Pineapple Express – Features enzymes from pineapple and yam extracts to nourish skin and increase cell turnover. Peptides boost the skin's cellular activity while Milk Mask soothes and cools the skin. This lovely treatment smells like a tropical vacation! Great for all but very sensitive skin types – especially good for photo-damaged, aged, and/or hormonally imbalanced skin.

Summer Pore Perfector – Quick, thorough, and effective! This treatment provides a deep pore cleanse and potent maintenance treatment with digestive enzymes to support normal to problematic skin. The Pore Perfector is great for those of you with fair to moderate acne conditions or normal to oily skin. If your pores go into overtime in the summer, this is THE express treatment for you!
These shorter treatments don't skimp on the effective ingredients or techniques. However, in an effort to get you in and on your way – these 45 minute do not include extractions and they feature a shorter neck/shoulder massage. Additionally, all treatments will include my signature cool therapy using chilled masks, ice globes, and cool towels. According to my loyal clients, this is one of their favorite parts of my skin care treatments…it's definitely a GREAT way to stay cool in the summer.
I'm looking forward to seeing you soon! To book your treatment, you may schedule online, Email Me, or call 469-500-9515.