Rhonda Allison 2014 UPLIFT Signature Facial in Plano, TX at Rox Skin Studio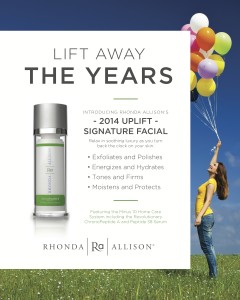 Looking for a a rejuvenating lift this Spring?  Then this special treatment is for you!
Rhonda Allison's 2014 Signature Facial is designed to provide an uplifting experience that will turn back the clock. This luxurious treatment begins with a double enzyme exfoliation using a combination of the Derma Peel and Mint Papaya Enzyme to provide a deep cleanse. While the Mint Papaya enzyme is on the face, a vapor steam and heated compress will be applied. Upon removal the skin is smooth and polished.
The next step focuses special attention on the eye area and works to build and strengthen the skin. A cocktail of ChronoPeptide A and Drops of Essence Hydration Drops is massaged into the skin, including the eye and neck. This drives nutrients into the skin.
The mask application is designed to stimulate and tone the facial muscles. Natural Lift Mask, Natural Lift Tonic and Peptide 38 work in tandem to deliver essential peptides to the skin and continue the rejuvenation process.  Skin is youthful, hydrated and radiant, and you're left in a state of pure bliss!
The UPLIFT Facial is 1 hour and 15 minutes and also features relaxing neck & shoulder massage and a divine hand treatment.  Available now for $99.  Book online.