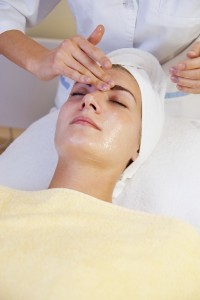 VARIOUS FACIAL TREATMENTS:
I customize all facial treatments specifically to your needs.  So, if you're unsure of your needs you don't have to specify your preferred facial.  When booking online simply select "Signature Facial" from the Facials category.  We will consult at the time of your appointment to determine the best course of treatment for your specific needs.  You may also specify one of the following options:
Hydrating Facial 60 min – $65
relaxing * moisturizing * firming
A basic facial including exfoliation customized to your skin, massage, hydrating serum and mask – results in smooth and hydrated skin. Get skin glowing, plump and soften fine lines and wrinkles.
Vitamin C Anti Aging Facial 60 min – $65
exfoliating * correcting * brightening
Keep skin looking youthful and bright with this facial. Treatment includes kojic acid brightening scrub, papaya & pineapple enzyme exfoliation,, massage, Vitamin C infusion, customized mask and other correcting/brightening therapies.
Soothing Sensitive Skin Facial 60 min – $65
calming * nourishing * healing
Sensitive skins need special care. Treatment includes very gentle exfoliation customized for your skin type. This facial utilizes special serums, moisturizer, and calming masks to heal and nourish skin without creating irritation or inflammation.
Problem Skin 60 min – $65
clearing * balancing * purifying
Serious care for problem skin can break the breakout cycle. Treatment includes thorough cleansing, exfoliation to sweep away dead skin cell buildup, and other therapies to clear and balance pores. Facial concludes with a calming and healing mask to reduce inflammation.
Stimulating Deep Pore Cleanse 60 min – $65
pore cleansing * anti aging * nourishing
One of my most common requests is for a treatment that addresses clogged pores as well as fights the signs of aging. If you want to remove dead skin build up and layer the skin with rich age reversing ingredients- this is THE treatment for you! Enjoy the stimulating effect of this squeaky clean facial. Skin will be renewed with a powerful infusion of antioxidants, resveratrol, AHA's, retinol, anti-inflammatories, vitamins, epidermal growth factors, healing herbs and minerals. With countless benefits, skin has never had it so good!
SPECIALIZED FACIAL TREATMENTS:
Rhonda Allison Signature MINUS 10 Facial 75 min – $105 
stimulating * repairing * rejuvenating
As the name implies, this treatment was designed to help clients recapture the skin of their youth by erasing 10 years.  This treatment is all about infusing the skin with cutting edge active ingredients that stimulate, repair and rejuvenate.  These actives work to firm and tone the skin by triggering the cells to produce more collagen.  The Minus 10 Facial begins with deep cleanse using a sumptuous blend of the Milk Plus and Maui Cleanser.  This is followed by the Purifying Lotion to tone and prepare the skin for the enzyme application – a customized blend of Cherry Jubilee Enzyme, Papaya Tangerine Enzyme and Mandelic Arginine Peel. This will stimulate cellular turnover, infuse the skin with antioxidants and provide hydration.  Following the enzyme, the Hibiscus Peel is applied evenly then massaged into the skin to brighten, heal, hydrate, and further the cell regeneration.  To repair and strengthen the skin, the ChronoPeptide A and Omega 6 EFA are massaged into the skin.  Firming Apple Wine Peel can be layered over or mixed in with the mask blend of the Milk Mask and Grape Seed Parfait Mask to take this treatment to the next level.  To finish, AGEless, Peptide 38, Drop of Essence Hydration Drops, and Sheer Tint Finisher are applied to leave skin absolutely glowing.
UPLIFT Signature Facial 75 min – $99 
polishing * lifting * rejuvenating
Rhonda Allison's 2014 Signature Facial is designed to provide an uplifting experience that will turn back the clock. This luxurious treatment begins with a double enzyme exfoliation using a combination of the Derma Peel and Mint Papaya Enzyme to provide a deep cleanse. While the Mint Papaya enzyme is on the face, a vapor steam and heated compress will be applied. Upon removal the skin is smooth and polished.
The next step focuses special attention on the eye area and works to build and strengthen the skin. A cocktail of ChronoPeptide A and Drops of Essence Hydration Drops is massaged into the skin, including the eye and neck. This drives nutrients into the skin.
The mask application is designed to stimulate and tone the facial muscles. Natural Lift Mask, Natural Lift Tonic and Peptide 38 work in tandem to deliver essential peptides to the skin and continue the rejuvenation process.  Skin is youthful, hydrated and radiant, and you're left in a state of pure bliss!
Four Layer Magic Green Facial 75 min – $75 
restoring * detoxifying * healing
This is an amazing deep tissue facial that smoothes, softens, clarifies, and restores skin using elements of many GREEN products.  This highly effective treatment features ingredients like green tea, green papaya, green herbs (rosemary, basil, and more), and green clay.  Many skin types will benefit from the enzymatic exfoliation as well as the purifying and stimulating masks.  The Four Layer Magic Green Facial helps to reduce oil, blemishes, rough texture, sensitivities, dehydration, and dull complexion.  This 75 minute green facial starts with a relaxing and purifying green tea cleanse and sea algae scrub.Next, skin is exfoliated with an active enzyme formulated with cucumber and skin lighteners (Layer 1).  The purifying and polishing continues with a second exfoliation with an active enzyme/acid cocktail formulated with green papaya, aloe, wintergreen, spinach, and herbs like oregano, thyme, and basil (Layer 2).  Then, skin is soothed and massaged with a nutritious cocktail of grape seed oil and wild yam extract with essential oils (lemon balm, cypress, clary sage, and sandalwood) which offers antioxidant support and is beneficial for those experiencing abnormal skin activity due to hormones.  Any necessary extractions are done at this point and then skin is layered with a purifying and detoxifying mask derived from green tea extract and wasabi (Layer 3).  A second mask formulated with rosemary, basil and green clay is applied for its anti-inflammatory and calming benefits while neck & shoulders are massaged (Layer 4).  Treatment concludes with an application of Growth Factor Serum Plus, eye cream, lip balm, and sun protection. 
Hibiscus Facial 60 min – $95
potent * brightening * anti aging
Hibiscus Facial includes: deep tissue penetrating cleanse with pumpkin extracts, gentle exfoliation with enzymes from pineapple & papaya, non-irritating Hibiscus Peel, nourishment with anti aging peptides and hydrating omegas, eye & lip repair serum, soothing & hydrating milk mask, upper neck & shoulder massage, and finishing application of Growth Factor Serum, moisture & sun protection.
This is the perfect treatment for you if:
-You've been considering a peel, but do not want to experience a lot of "down time" post treatment.
-You love facials, but are looking for a treatment that goes a bit deeper.
-Your skin is irritated and in need of calming, healing and anti-inflammatory support.
-Your skin is dull, dry, and/or sluggish and needs a boost.
-You suffer from hyper pigmentation and want a skin brightening treatment.
-You're looking for an ultimate in anti aging treatment packed with cutting edge cosmeceutical ingredients.
Fruit Enzyme Exfoliation Facial 60 min – $85
exfoliating * invigorating * smoothing
Advanced therapy facial treatment designed to diminish appearance of sun damage and/or uneven skin tone, clear pores, and improve skin's texture and tone. Special exfoliation technique is used – micro-crystals gently buff away dead skin cells and fruit enzymes help renew texture and tone. Treatment also includes hydrating serum and nourishing mask.
Men's Facial 50 min – $55
relaxing * balancing * exfoliating
Relaxing facial treatment includes hot towel treatment, cleansing, exfoliation, and relaxing massage. Skin is balanced and restored while you escape your daily stresses.
Teen Facial 45 min – $45
balancing * correcting * soothing
The teenage years involve a lot of change – especially hormonal changes that can wreak havoc on the skin. Treatment includes thorough cleansing to clear and balance pores as well as exfoliation and anti-blemish therapy. Skin care education is also a focus.
See our newsletter for current specials & promotions.
CHEMICAL PEELS:
Options and prices for chemical peels vary, and I require a consultation prior to most peels. In some cases, a patch test is required 48 hours in advance of the treatment.  I use Rhonda Allison chemical peels, and can provide treatments with Lactic, Glycolic, TCA, and other various acids.Also, in some instances, peels may be combined with a facial treatment.