Happy Saint Patrick's Day! Have you had the Four Layer Magic Green Facial yet??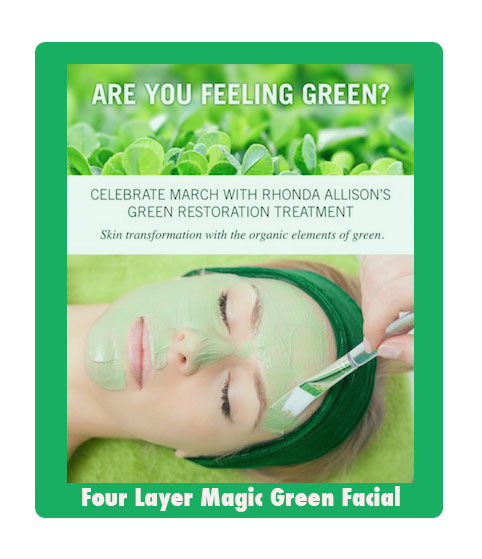 If you have, you know it's Ahhhh..mazing! If you haven't, you should! Either way…here's your opportunity.
In honor of Saint Patrick's Day, March Madness, and everything GREEN…the first 15 people to book a Four Layer Magic Green Facial between today and April 6, 2015 – will get $20 off this one hour and fifteen minute treatment! (Regularly priced at $75.)
To earn this savings – Just book online and use the code "GREEN"
The Four Layer Magic Green Facial uses many green elements – including green tea.  So what's the value of Green Tea?  First, and most importantly, is the Heart of Green Tea or EGCG (Epigallocatechin Gallate). This is the most abundant catechin in green tea.  Catechins are a type of natural flavonoid phytochemical called polyphenols – "super" antioxidants that provide potent antibacterial support and reduce inflammation to minimize and prevent cell damage for younger, healthier-looking skin.
Green Tea…
may be used to reduce puffy eyes and under-eye circles, moisturize skin and minimize enlarged pores plus calm skin after shaving.
is rich in polyphenols which provide greater antioxidant protection than vitamins A, C & E.
eliminates free radicals which can damage skin and safeguards healthy cells.
assists the wound-healing process and manages and minimizes scarring.
protects the skin's immune system, inhibits MMP, delays cellular aging, stabilizes sensitive, irritated skin, provides potent anti-inflammatory benefits and improves skin elasticity.
I know you're convinced!  I'm looking forward to seeing you in the studio soon.