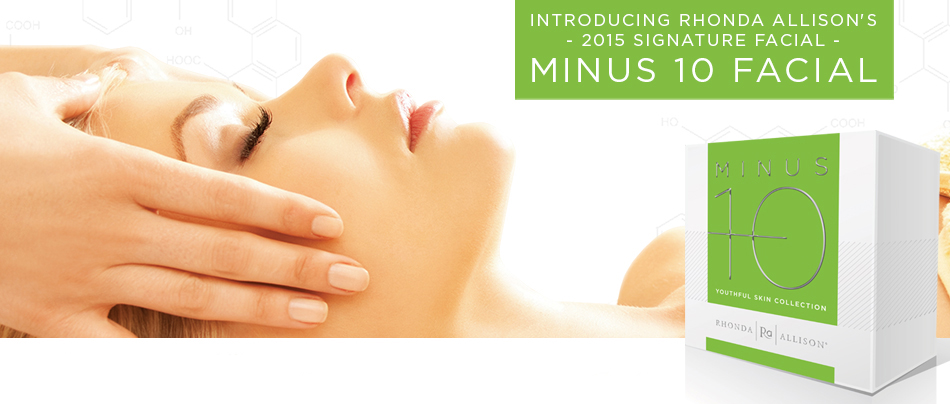 As the name implies, Rhonda Allison's Signature MINUS 10 FACIAL was designed to help clients recapture the skin of their youth by erasing 10 years.  This treatment is all about infusing the skin with cutting edge active ingredients that stimulate, repair and rejuvenate.  These actives work to firm and tone the skin by triggering the cells to produce more collagen.
The Minus 10 Facial begins with deep cleanse using a sumptuous blend of the Milk Plus and Maui Cleanser.  This is followed by the Purifying Lotion to tone and prepare the skin for the enzyme application – a customized blend of Cherry Jubilee Enzyme, Papaya Tangerine Enzyme and Mandelic Arginine Peel. This will stimulate cellular turnover, infuse the skin with antioxidants and provide hydration.  Following the enzyme, the Hibiscus Peel is applied evenly then massaged into the skin to brighten, heal, hydrate, and further the cell regeneration.  To repair and strengthen the skin, the ChronoPeptide A and Omega 6 EFA are massaged into the skin.  Firming Apple Wine Peel can be layered over or mixed in with the mask blend of the Milk Mask and Grape Seed Parfait Mask to take this treatment to the next level.  To finish, AGEless, Peptide 38, Drop of Essence Hydration Drops, and Sheer Tint Finisher are applied to leave skin absolutely glowing.
This spectacular facial treatment has been receiving rave reviews from my clients as I've been perfecting the application detail.  For a limited time, you can save $15 on this 1 hour and 15 minute treatment which is regularly priced at $105.  Book the MINUS 10 FACIAL using the promo code "TURNBACK".  This special discount offer is only available between October 20, 2015 and December 31, 2015 and is subject to schedule and availability.