It's that time of year…the delicious Sweetheart Facial is back!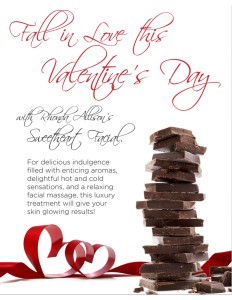 Valentine's Day is just around the corner!  Be sure to let your loved one know that you're looking forward to being pampered at Rox Skin Studio.  (Instant online gift certificates!!!)  For a limited time book the Sweetheart Facial –
This decadent treatment begins with a delicious Cherry enzymatic exfoliating cleanse (with steam).  Then it continues with a decadent Grape Seed Hydrating Serum application and warm compress wrap and a luscious Papaya Tangerine and Cherry Jubilee enzyme combo.  Things finish off with nourishing serums including Drops of Essence Hydration Drops and a better than dessert Grape Seed Parfait and Chocolate Antioxidant mask.  OK, OK…probably not really better than dessert.  Book online now – this special treatment will be gone before you know it!